Our history endorses who we are,
our experience strengthens what we do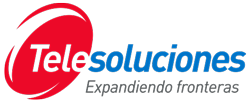 We are a technology company specialized in the comprehensive management of telecommunication services.
The increasing demand of specific services and solutions allows us to develop, learn and grow as a firm that provides strategic solutions tailored to every need.
Our commitment, perseverance, and drive to move ahead set us as leaders in the field of telecommunications.
Our constant development and growth are evidence of our work as a company which strives and takes its chances day by day to engage with the community at large. Our horizon is vast and it keeps us continually expanding our frontiers.
Our Mission
To be the best at providing comprehensive solutions in the field of telecommunications in a highly competitive, efficient and profitable way, exceeding our customers' and our people's expectations.
Our Vision
To offer and provide services in the field of telecommunications, striving for the improvement of the community at large and promoting the development of our people through high quality and superior management within the Argentine territory.






Our Values
Performance
We aim to achieve the expected results by optimal use of resources.
Safety and Health
We are firmly committed to labor safety and health by fostering a culture of prevention.
Customer focus
We want to achieve customer satisfaction by devoting ourselves to always meeting their requests and expectations, seeing to their every need and coming up with solutions to their problems.
Quality
We strive to achieve a high level of excellence. We keep high quality standards in every service we offer.
Our Quality Policies
As we are driven to offer quality telecommunication services and solutions that help our customers to grow stronger and committed to complying with all the applicable requirements, we have set the following Quality Policies:
We plan in synergy with our customers and suppliers in order to accomplish their full satisfaction and to provide high-quality services.
We improve constantly in order to reach farther, observing our quality management system commitment to continuous improvement.
We work as a team in order to expand our frontiers.
We develop our support structure to back up our operations and new challenges, and we manage our technology in synergy with our skills.
We know and learn continually about how to develop our partners and suppliers' competences.